Antique Wall Mounted Corkscrews, Wine Bottle Cork Openers
At MountedCorkScrews.Com we are pleased to offer wall mounted corkscrewthese artistic, hard to find antique wall mounted corkscrews and cellar'swine bottle cork openers internationally. These European, Artisan made wall mount wine bottle cork openers are made from solid brass, hand crank operated and are a beautiful replica of a vintage, old world Wine Cellar Cork Opener.

Vintage Lever Operated Wall Mounted Corkscrew and cork puller
The WBF305 Brass made Wine Bottle Opener is an artistic, working replica of an antique cellar wall mount corkscrew. Firstly, the small 'twist and pull' cork opener is hand pressed and twisted into the wine bottle cork cap. The corkscrew is hand twisted into the cork cap but, instead of having to pull the cork manually the geared, hand operated crank is lifted and the bottle is held at the bottom. Once the corkscrew is hooked up, the lever is down stocked and thus effortlessly uncorks the bottle.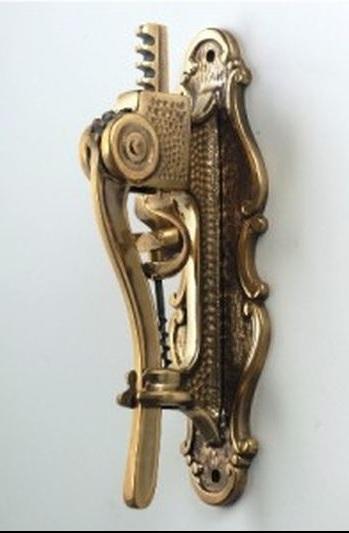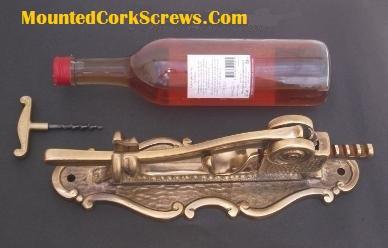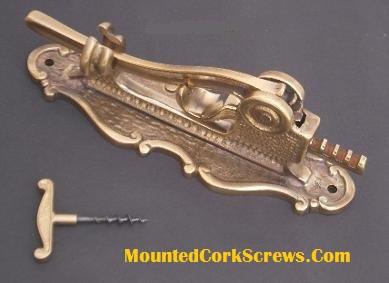 WBF305: Vintage Wall Mount Wine Bottle Cork Opener

Material: Brass Made
Dimensions: Height 300 mm x widest 100 mm x protrudes 130 mm
Weight: 3200 gr.
Availability: Please check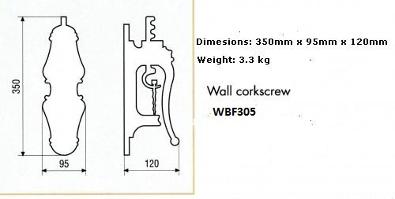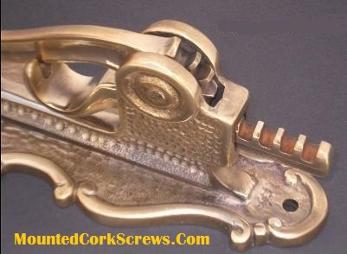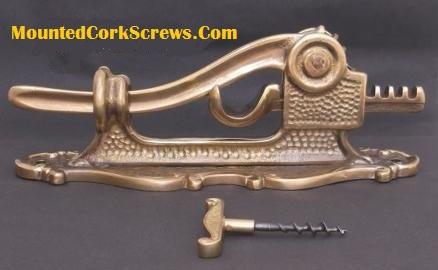 This Vintage looking replica Wall Mounted Corkscrew Opener is made from casted brass and comes in a traditional, yellow brass finish and should make a great practical decor addition to any kitchen, cellar, wine bar or restaurant. These wine bottle openers make an ideal heirloom, wedding gift idea or for any avid or amateur wine enthusiast.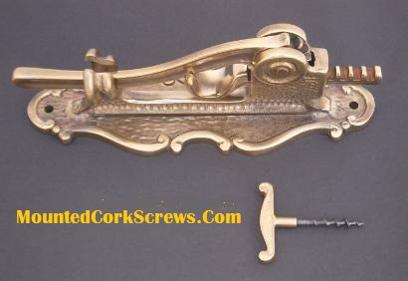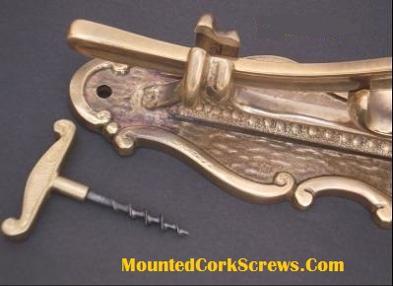 Supply & Sale of Wine Cellar, Wall Mounted Corkscrew - Tire-bouchon
Private or Re-seller Orders: These Vintage Replica Wine Bottle, Cellar Corkscrew Openers can be purchased in single, small or limited quantities internationally. If the desired corkscrew happens to be out of stock and you are willing to pre-order one we can typically have new ones available for shipping within a few weeks.

For Pricing, Availability or Questions about the WBF305 Wall Mounted Corkscrew Opener: Kindly contact Renaissance Arts Company Limited by E-Mail at corkscrews@winetaps.eu or by phone +356 21 632623