Classic Wall Mounted Corkscrew, Cellar wine BottleCork Extractor
MountedCorkScrews.Com has recently introduced this Classic, Brass Made Wine Bottle Cork Extractor internationally. This Elegant, European made Wall Mounted Wine Cellar Cork Screw Opener is also hand crank operated and is Bronze Finished making it an outstanding heirloom Kitchen fitting in addition to wine cellars, bars and restaurants.

Classic, Wall Mounted & Bronze Plated Cellar, Wine Bottle Cork Opener
The WBF107 Classic, Wall Mount Wine Bottle Opener is also Brass made and currently comes with a 'Bronze Like' finish. Similarly to our other wall mount corkscrews, the loose cork opener is hand twisted into the cork cap while the geared, hand operated crank is lifted, the bottle is held at the bottom. Once the corkscrew is hooked up, the lever is down stocked and thus effortlessly uncorks the bottle.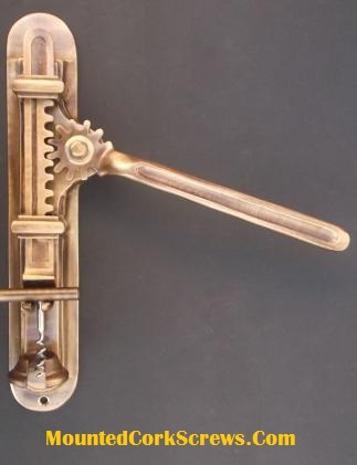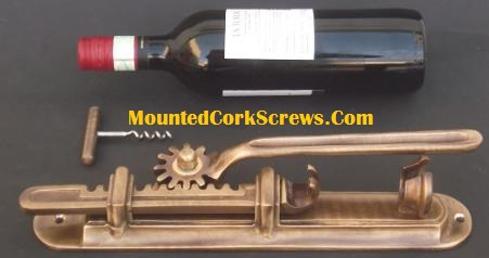 WBF107: Brass Made, Wall Mount Wine Bottle Cork Opener
Material: Brass Made with a 'Bronze Like' finish
Dimensions: Height 350 mm x widest 90 mm
Weight: 2200 gr.
Availability: In stock or by pre-order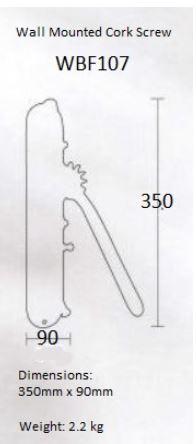 This classic wall mounted corkscrew opener is made from casted brass and comes in it's 'bronze like' finish that would be a great decor addition to any kitchen, wine cellar, wine bar or restaurant. These wine bottle openers do make an ideal heirloom, wedding gift idea or for any avid or amateur wine enthusiast.
Supply & Sale of Classic, Bronze Finished, Wall Mounted Corkscrew
Private or Re-seller Orders: Subject to availability, these Classic, Brass Made and Bronze Like finished Wine Bottle Cork Openers can be purchased in single, small or limited quantities internationally. If unavailable the cork openers can be restocked within a few weeks if the customer is willing to wait

For Pricing, Availability or Questions about the WBF107 Wall Mounted Wine Bottle Cork Extractor : Kindly contact Renaissance Arts Company Limited by E-Mail or phone.